I had to work late one night recently, so Penny and the kids took the opportunity to have dinner her mom and grandmother in Bonneau. I am the sole seafood fan in the house, so I thought I'd make a new shrimp dish I've had rolling around in my head for the past couple of weeks. I have been changing my eating habits to be healthier and I've lost about 12 pounds so far, but more importantly, I feel so much better! So this dish is a result of my changed thinking.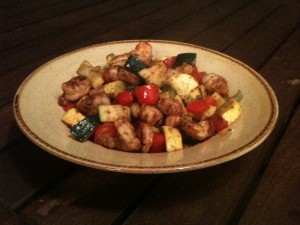 PREPPING: I purchased some wild-caught shrimp from our local Publix market, along with some shredded parmesan cheese. When I got home I diced a small zucchini  and a small yellow squash. I also diced a third of a large bell pepper and a third of a large sweet red pepper (they were on sale…). Then I chopped half a stick of celery and a half dozen baby sweet carrots. Lastly, I cut about 10 cherry tomatoes in half.
COOKING:  This part is all about timing…You don't want to over cook anything or it will get mushy. With a couple of tablespoons of olive oil and a tiny pat of butter in a medium hot frying pan, I sauteed the peeled shrimp, which I had cut in half to be more bite-sized. Add a liberal amount of Mrs. Dash Table Blend and a smaller amount of ground red cayenne pepper. Cooked just until the pink was starting to appear – 2 or 3 minutes. Then I added the squash, peppers, celery, carrots, more Mrs. Dash and fresh-ground pepper and stir fried for about 2 minutes. Then I added the tomatoes last. Stir fried for another 2-3 minutes and added some shredded parmesan cheese. Stirred a couple of times, removed from the burner and put a glass lid on the pan to keep hot.
I confess that in this one instance, I had forgotten to cook my brown and wild rice, which would have taken about 20 minutes or more. So, it was Uncle Ben's 90-second brown and rice medley to the rescue! It has a bit more sodium than the one I usually cook, but it tastes great.
EATING: I had cut back my soda consumption to once a week, so I took the opportunity to drink a hot (spicy) Ginger Ale with the meal and it was perfect.
VARIATIONS:  There are lots of variations you can apply to this general recipe:  use chicken (cook a little longer initially), change up the veggies, add the cooked rice in the middle and stir fry, try your own favorite spices, serve over angel hair pasta, add a little white sauce… feel free to get creative and enjoy!