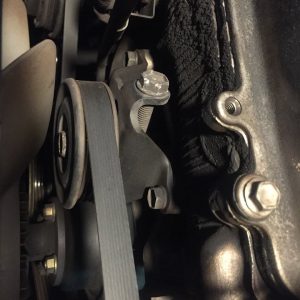 Today, I changed the belts on my '98 4-Runner. To say that in so few words doesn't really give justice to the whole ordeal. I mean, the YouTube video guy said he did it in about 45 minutes. My brother said it should take about 20 minutes. Well, it only took me about FOUR hours, but I got it done!
I used to work on cars a lot with my Dad and brother – a loooonnng time ago, and I'm a bit out of practice. But I actually ended up enjoying the experience in the end. Yes, I saved about $250 by doing it myself, but it was more than that. Even though Dad passed away over 5 years ago, it was like he was right there with me today.
The memories were so real… him telling me where to shine the light (turns out – not in the trees)… raking through my scattered assortment of sockets and wrenches, trying to find the one I just had… washing my greasy hands with Gojo and Lava soap, wondering if they will ever come clean again… missing his knowledge of how to do just about anything.
But, the greatest memory of all was somewhere in the middle, when I got really discouraged. I couldn't find a couple of bolts that I needed to loosen to put slack in one of the belts. My arms were all scraped up from working in close quarters around the fan blade that I had to remove. It just…wasn't going well. That $250 price was looking pretty good right then and, well – I wanted to quit.
I just sat on the garage floor, frustrated and tired… and then God started to bring to my mind all the projects my brother and I had helped Dad with over the years. I remembered that they rarely went perfectly and I remembered my dad's tenacity – he just didn't quit. He couldn't afford to and he wasn't going to let his family down, even in the small things. It wasn't in his nature. When something had to be done, he pushed through.
And so did I. It took another 2 hours and I think I made up some new cuss words (just kidding, Mom!), but I got it done. And the car runs and everything!
Next time, I'll probably shell out the money to have somebody else do it, but I think God carried me through this project today to remind me of a principle that Dad and his generation held onto with both hands – whether it's cars, or relationships, or governments – when things are broken, you work together and fix them. Never give up.