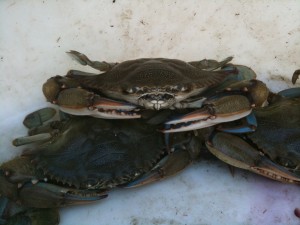 With the holidays upon us, I thought I'd post a favorite recipe or two. This one is for Lowcountry Crab Dip — nothing exotic, just really good. Let me know how it goes over at your next party.
Lowcountry Crab Dip
8 oz. cream cheese
6 oz. crab meat
2 oz. sharp cheddar cheese (finely grated)
1 tsp. Worcestershire sauce
1/2 cup mayonnaise
1 tsp. horseradish sauce
salt & pepper to taste
Cayenne pepper to taste if you want to give it a little kick
Preparation is pretty easy: mix all ingredients in a bowl. You're done! This goes great with most crackers, my favorites are Triscuits (I like those new little triangle shaped ones, too), Wheatstone, Captain's Wafers and even the old standard, Ritz. This makes a rather small bowl full, so you may want to use your math skills and make a bunch. Bon appetit!